A Word from Our Pastor
Minister's Moment
We look forward to several changes during this summer at Princess. Many outings and events for both families and youth have been planned. Another change that this occuring involves the program of worshp. Easter Sunday saw the initial change in the order of worship service. Prayer Requests will be taken during the offering and at the close of the services, the elders will be asked to come forward and assist in reading and of prayer for each request submitted. It is our hopes that a Praise and Worship Team will be assembled to help lead congregation singing. A blend of traditional hymns and more current songs will begin. Remember that we are encouraged to make a "joyful noise" unto the Lord and that praise and adoration resonate in the heart and life of the worshipper.
We want to thank the men of the congregation for the Easter morning breakfast that was prepared. Everyone enjoyed it. Also, we want to thank those who helped with the Easter Egg hunt for the children. It seemed that everyone enjoyed a wonderful time. Thank you notes need to be presented to the ones responsible for cleaning up after services.
I know that vacations are planned by many this summer, but also remember camp times at HMCA. This is a great time for your child to learn about God and about our Savior Jesus Christ. Sign up early with HMCA and remember that Princess pays 50% of camp fees.
Plans are underway for a Fall Revival. Please keep this in your thoughts and prayers as the Board meets to plan this event.
From the Heart
Jacqueline was an elderly woman who lived to take care of her daughter, who was wheelchair bound. when her daugher died, Jacqueline not only lost her purpose for living, she lost her living companion. Her cottage in the country seemed as empty as an eggshell. Occasionally a friend would call or a note would arrive, but most of her time was spent in oppressive, ongoing solitude. Her health didn't allow her to circulate very much, and her best friends were now all in heaven.
One day Jacqueline's Bible opened to Philippinas 4:5 and four words struck her forcibly: "The Lord is near." If so, thought Jacqueline, I should be more aware of it.
"Lord," she said, "I'm going to pretend you're here all the time. No, forgive me for using that word; there is no pretending to to be done. I'm going to use my God given imagination to visualize how very present You really are. Help me ever remind myself of the reality of Your nearness."
That evening as she retired, she said, "I'm going on to bed now, Lord. Will You please watch over me as I sleep." The next morning on awakening, she said, "Good morning, Lord, This is the day You have made." Sitting down with her hot tea, she read through the book of Philippians again, underlining verse 5, the she prayed aloud for a very long time. At noon, she said, "Now, Lord, let's watch the news on televisioin, so you can show me things in this world I can pray for." Jacqueline and the Lord watched the news together, then she prayed for flood victims in the Delta, a newly-installed president in an Afrian country, and for a man senteced to life imprisonment.
At supper, she powed her head and thanked the Lord for her food, but she didn't feel her prayers were traveling up to heaven. She felt instead she was talking to someone sitting across the table from her.
Gradually her attitude was transformed. The loneliness lessened, her joy increased, her fears diminished, and she never afterwards felt she was alone in the house. Jacqueline was learning how to abide in the Presence.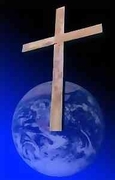 Quotes
Bad men cannot make good citizens. It is impossible that a nation of infidels or idolaters should be a nation of free-men. It is when people forget God, that tyrants forge their chains. A vitiated (corrupt) state of morals, a corrupt public conscience, is incompatible with freedom.
Patrick Henry
The "Small" Chruch
Carl S. Dudley wrote, In a big world, the small church has remained intimate. In a fast world, the small church has been steady. In an expensive world, the small church has remained plain. In a complex world, the small church has remained simple. In a rational world, the small church has kept feelings. In a modile world, the small church has been an anchor. Inan anonymous world, the small church calls us by name.