Staff
Meet Our Ministers
Senior Minister: Jerry Morris
Jerry has been working with the Princess Church of Christ since 1980 and has served as the minister since 1982. Princess has been blessed with three major building programs including a new kitchen, fellowship hall and sanctuary. Jerry and his wife Gale graduated from Kentucky Christian College in 1984. Gale obtained her Master degree from Morehead State University and is currently employed by the Greenup County School System as a Resource Teacher at Greysbranch Elementary. They have two fifteen year old twin daughters named Kara and Tara.
Jerry graduated from Morehead State University in 1989 with Master in Sociology/Corrections and in 2004 from the University of Kentucky with a Master in Social Work. He is a Licensed Clinical Social Worker for the State of Kentucky and is currently working to complete his PhD in Human Services Conseling. Jerry is currently employed as the Coordinator of Student Counseling at Kentucky Christian University.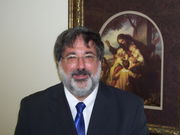 Associate Minister
William Jesse Barnett was hired to serve as the Associate Minister in March. We welcome Jesse and his wife, Penny, his sons Ty and William, and his daughter Tessa to the area. Jesse is also employed at Kentucky Christian University in the Education Department as a professor of education. Jesse comes from Shelby County, Kentucky where he was actively involved in the school system as a high school teacher and athletic director.